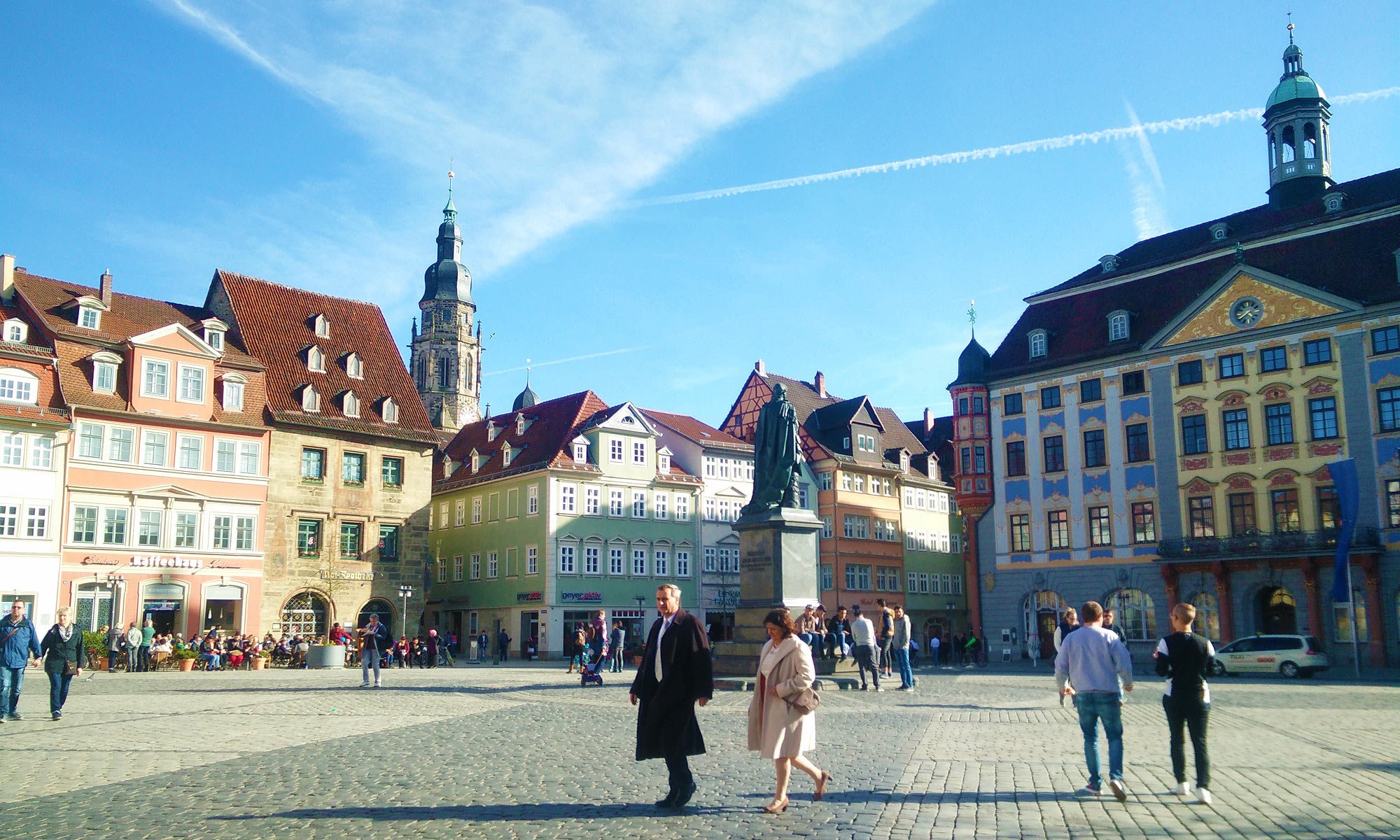 COBURG (Franconia, Germany)
THE GIST
Coburg is one of those beautiful German towns which remained rather untouched by World War II and is therefore still flaunting old architecture galore: Veste Coburg being one of Germany's largest castles. With 41.257 inhabitants it is cozy, relaxed and romantic. But every year in July, Coburg hosts 200.000 visitors in just three days, when the city celebrates the biggest Samba Festival outside of Brazil on 11 stages with 100 samba groups. Situated in the region Upper Franconia in the north of the state Bavaria, this is not only a place for history and samba, but also for beer—sort of.
ARRIVING IN COBURG
The train station Coburg is quite tiny and unassuming—at least in comparison to those big city stations I'm used to from the metropolitan area where I live. That the train station is so unassuming from the inside kind of took me by surprise. After all, Coburg rail service started as early as 1858, and quite many noble people are said to have come here visiting the duke and other aristocratic families: amongst them British Queen Victoria, whose husband Prince Albert grew up in Coburg, Austrian Emperor Franz Joseph I and the last German Kaiser, Wilhelm II.
At the moment the track are being renovated for a new fast train connection—Coburg's first. The passenger tunnels are very not so charming, but the oval entrance hall built in the 1910s and restructured a little in the late 1970s is a little bit more. The building is even more stately from the outside. You'll see the Late Baroque facade, once you walk out.
The centre of Coburg is just 600 metre away from the train station. Even during this walk of only 6-8 minutes, you can already spot some old villas and stately houses, until you arrive at the Spital Gate, which was part of the medieval town wall.
THE CITY CENTRE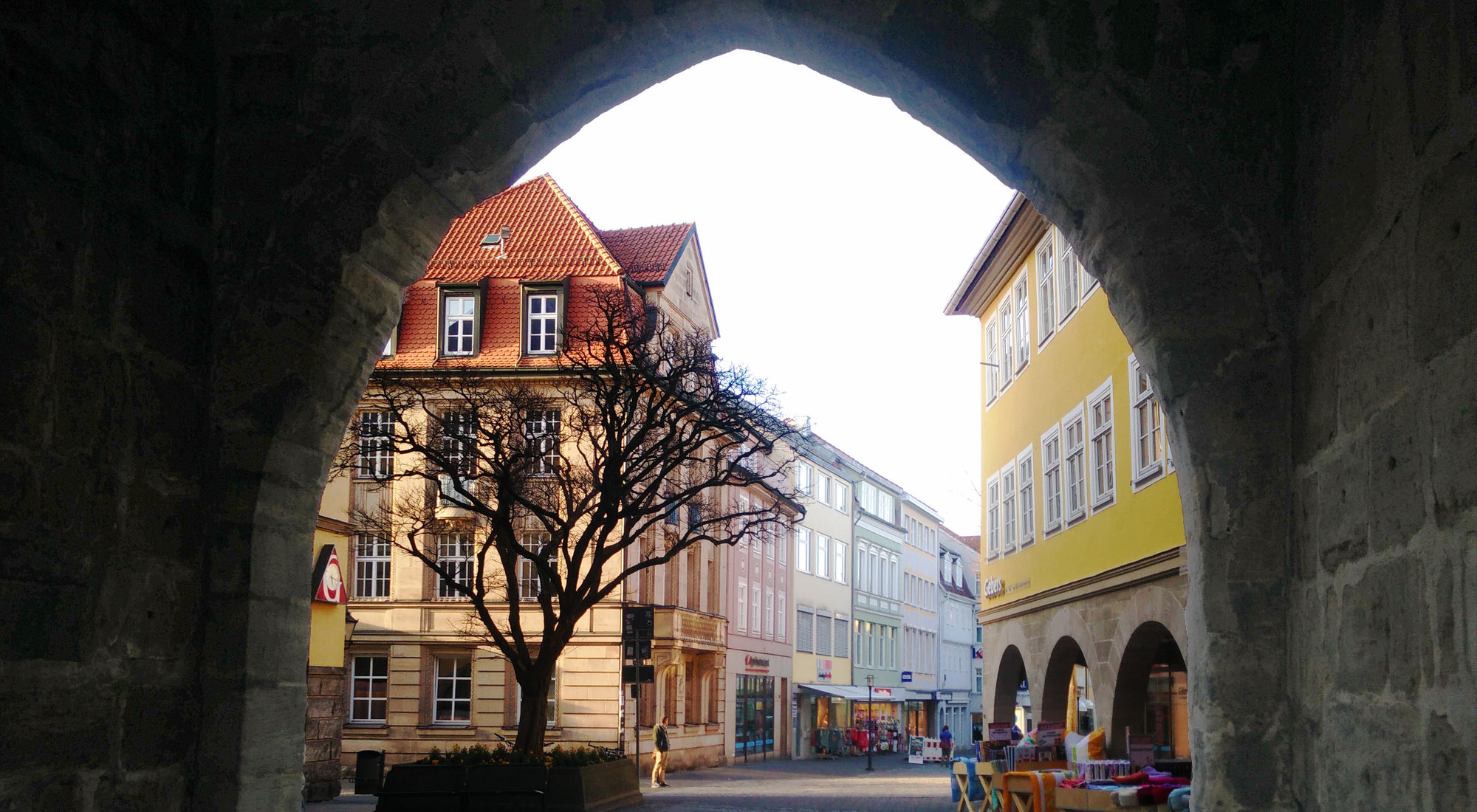 The centre of Coburg sports many historical buildings, because the town wasn't considered important enough to be bombed much during World War II—the metropolitan area Rhine-Ruhr, where I live, had been considered important enough back then. And the fact that Coburg was only 9 kilometres away from the inner-German border to the former eastern Socialist state German Democratic Republic (GDR), didn't harm it either. 🙂 (Maybe you have to be German to find that funny.)
Most of the town centre is pedestrian area, lined with smaller boutiques and specialized stores, but also many ubiquitous retail chains, which usually make German city centres look generic and interchangeable. Coburg's mixture of boutiques and chains can suffice for a little shopping spree—for the ladies, that is. The male half of the population and visitors has to shop some place else. Not even the H&M store in Coburg offers any men's clothes.
So why not make a small detour to the sweet Warenhaus Seelenlust (Store Soul Delight) instead and buy one of the many special chocolates, truffles and praline, or some of the other delicacies they offer. Opposite the store, you can see one of the most slender residential building I've ever seen—at least as far as I remember, and I've seen many slender houses in Amsterdam. The building from 1910 is hardly 3 metres wide.
MARKET SQUARE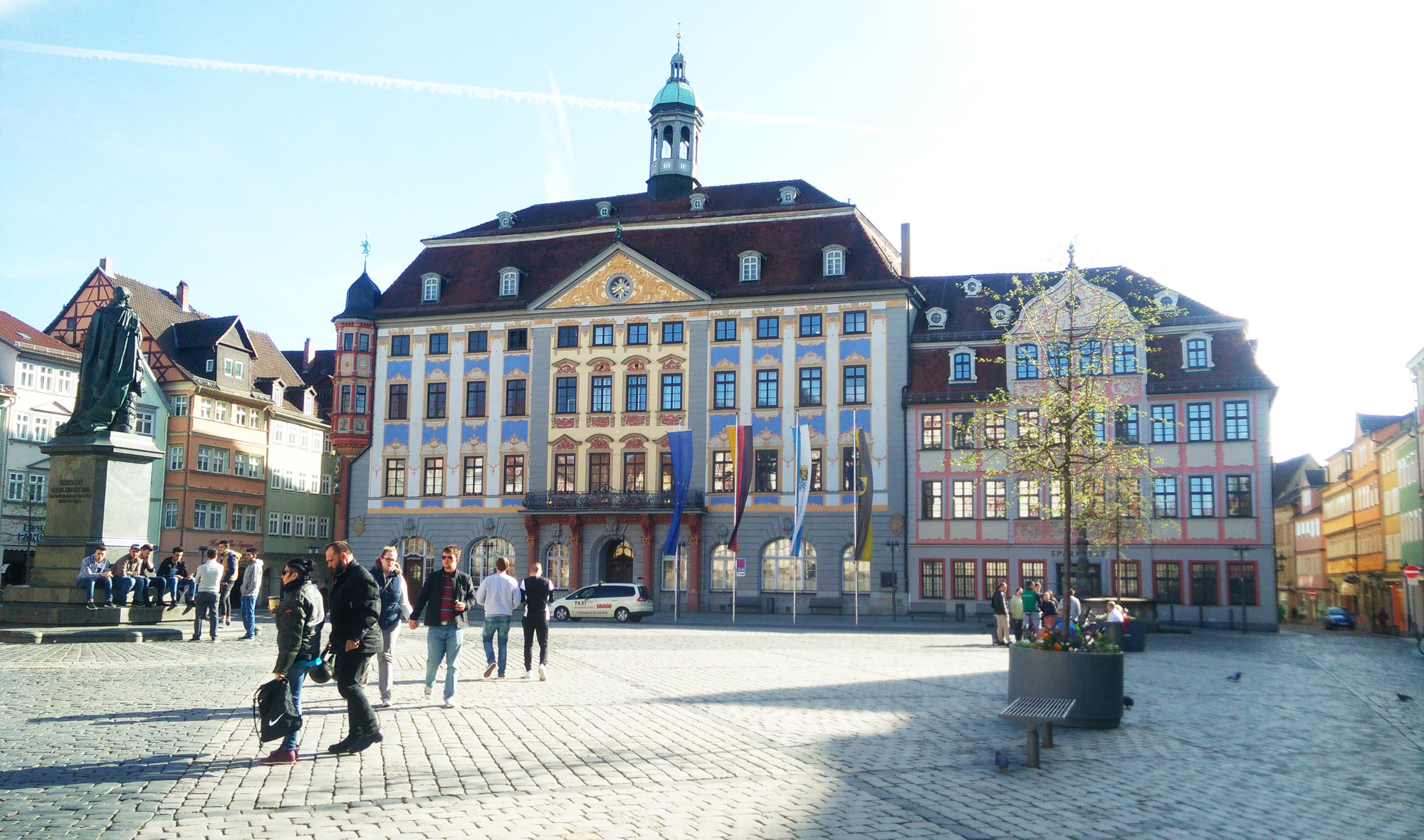 Traditionally, markets are the beating heart of any town—in form of a nice square as in many medievally structured towns like Coburg, or in modern shopping malls in American everyday life and recreation. In this respect, Coburg is no different—except for the medieval square version. And as a matter of fact, Coburg has a really picturesque market square. It doesn't have the strict symmetry of Piazza San Marco in Venice, but it is surrounded by a very enchanted and colourful ensemble of old buildings. This could also be great setting for a Disney movie.
The southern side is dominated by the very representive Renaissance town hall with golden ornaments, while the complete northern side is occupied by the administrative town hall with red windows, also late Renaissance from 1599. The eastern side of the square has some beautiful old shops, for example an apothecary (pharmacy). Well, the western side of the square is also quite nice, but to be honest, it's not as spectacular. So let's rather turn towards the middle of the square, where there is a statue of Prince Albert of Saxe-Coburg and Gotha, said German husband of Queen Victoria and father of King Edward II.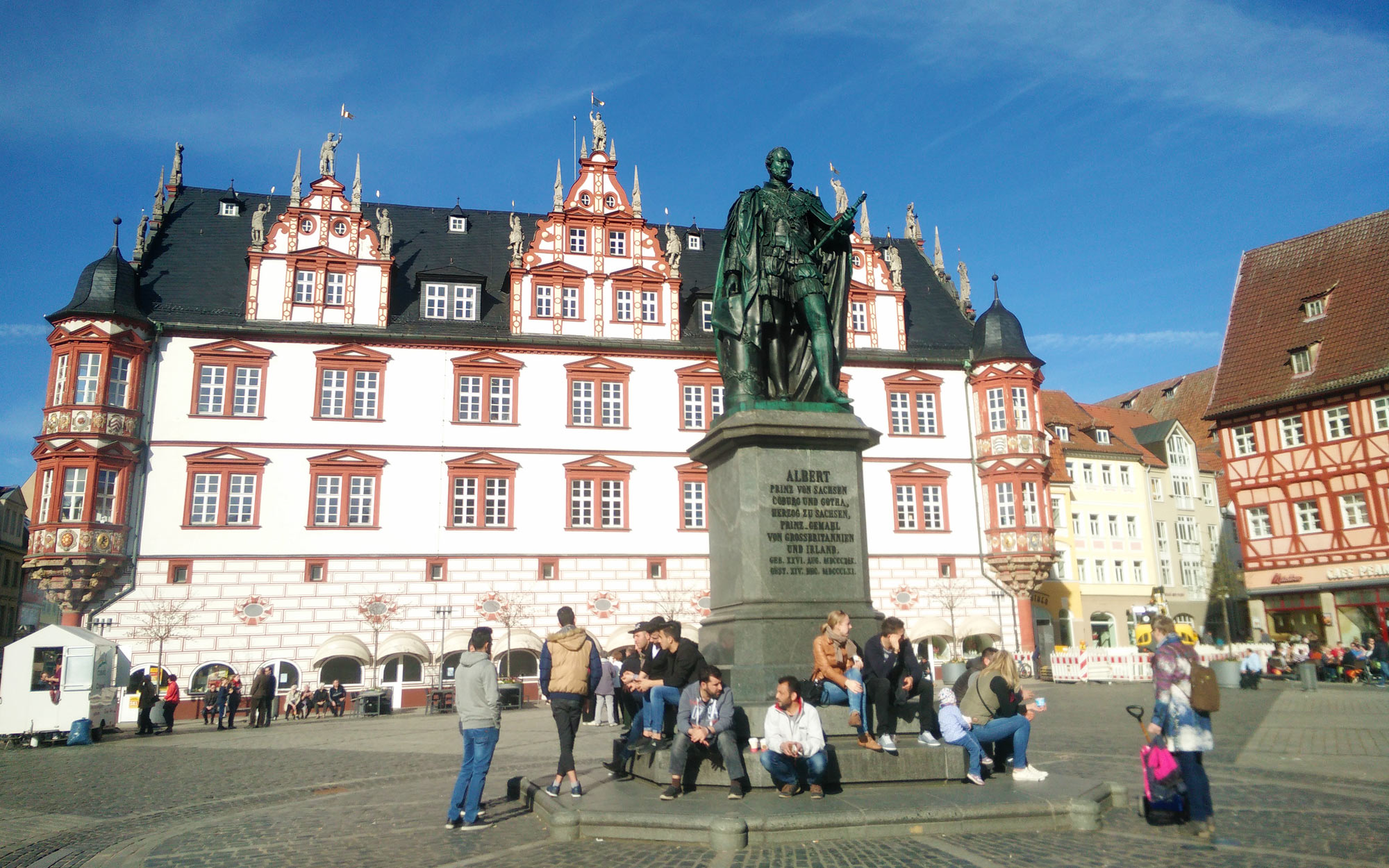 GRAB A BITE
Now, in the other side streets you can also some very nice sites, but let's walk through the small Steingasse (stone alley) towards the southeast of the square. Right at the beginning of Steingasse you will find a very tiny, rustic bakery to the right. Their breads and pastries are baked in a traditional wood-fired oven—tough at another location. You probably know that Germany is well-known for their many different breads. So the best places to go to are these rare traditional bakeries (in contrast to the many francises with more industrual or even frozen products). At least I prefer the more artisanal food stores. I have helped in the tiny wood-fired bakery of a colleague a few times.
If you feel like hot and/or savoury food already, just walk Steingasse a few steps upwards. On the left you'll see record store Toxic Toast. Situated in the same building is the earthy eatery or pub The Hungry Highlander, which is highly recommendable. If you feel more like eating in a restaurant, then turn left into Rückertstraße (passing by castle Ehrenburg, by the way) and in less than 100 metres (30 feet) you'll be at the inn Loreley in a historic building from 1763. But you will have to pay a little extra for this ambience. Actually, I don't know how the food is.
By the way, you cannot talk about food without drinks. And which drink can be more German than beer brewed according to the German purity law? As a matter of fact, Coburg is situated in the world's most dense brewery area. Franconia boasts 267 different breweries, smaller and bigger ones; the administrative region Oberfranken (upper Franconia) has 155 breweries alone. It is funny, though, that there is only one brewery in town, namely Brauhaus zu Coburg (brewery of Coburg), which is situated in Nägleinsgasse (small nail alley) northwest of the market square.
CASIMIRIANUM & TOWN CHURCH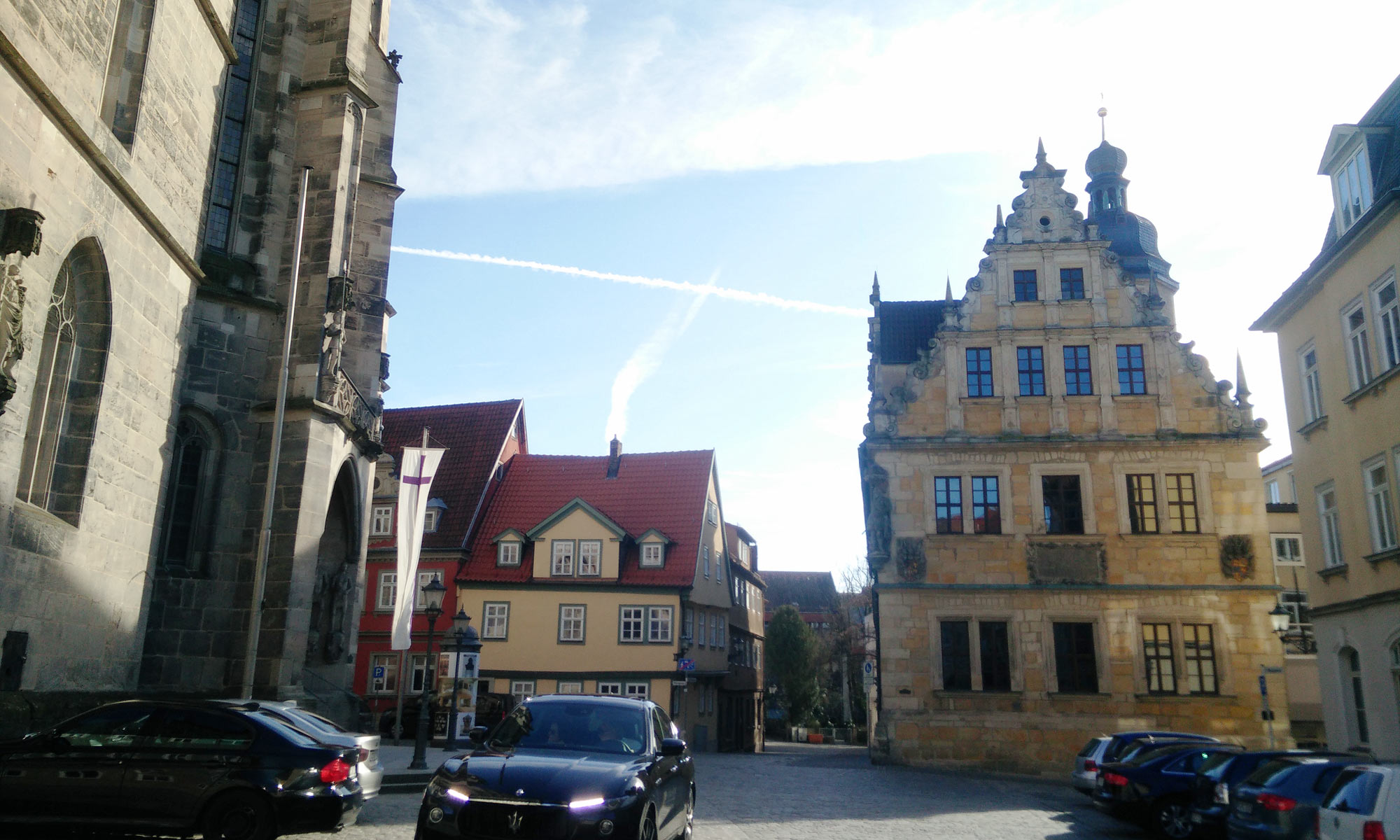 If you walk Steingasse towards The Hungry Highlander and turn right there into Mittleres Kirchgäßlein (middle church alley), you will come to the above spot within just a few steps. To the right you see the Renaissance stone building, which is the grammar school Casimirianum, founded by Duke Casimir in 1605. To the left is the town church St. Moriz. The Protestant church is the oldest (existing) in Coburg, though the inside of the Gothic building was redecorated in Baroque style in 1642. St. Moriz is also prominent for the two dissimilar towers, Martin Luther gave sermons here plus it houses the family tomb of the Dukes of Coburg and an impressive alabaster epitaph, which is 13 metres (47 feet) high.
PALACE SQUARE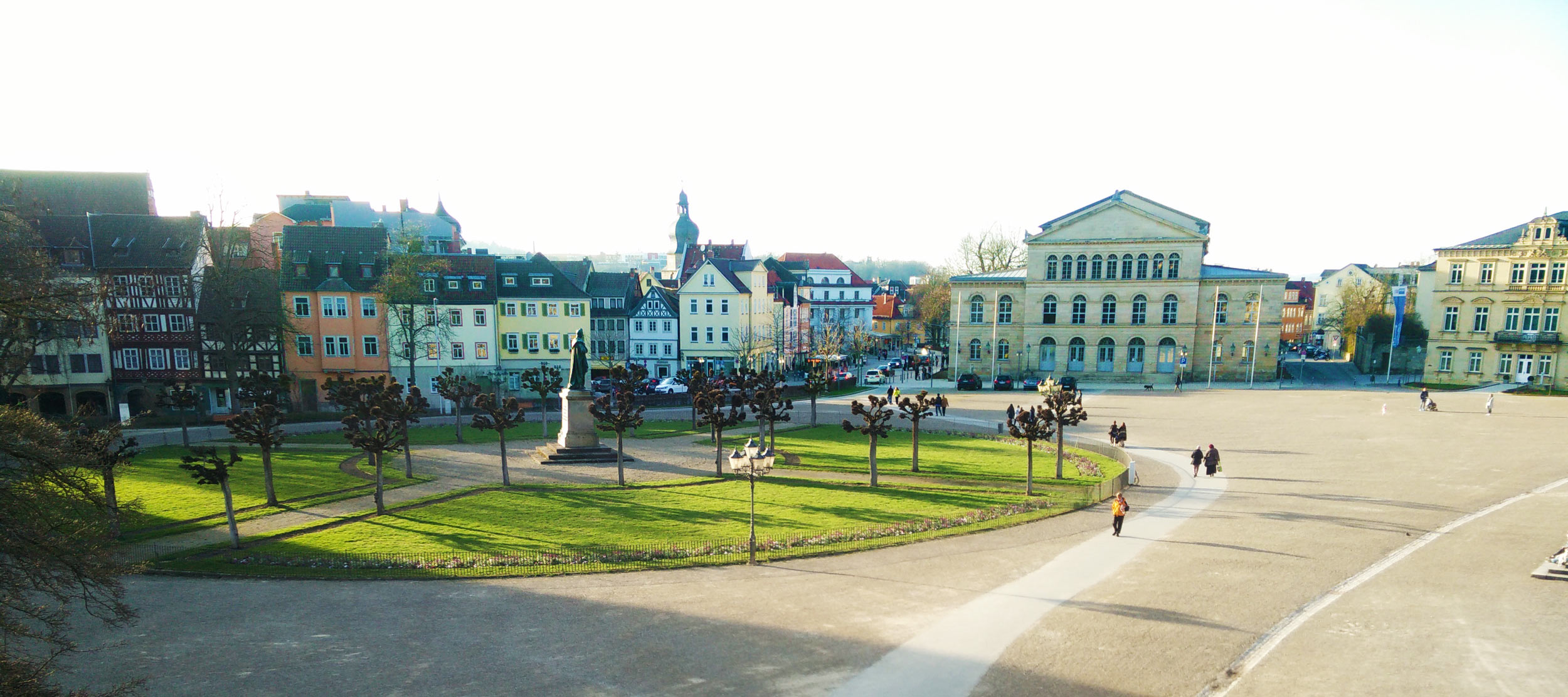 When you pass by the inn Loreley, you will come some more old buildings at the Salzmarkt (salt market) and to the palace square. This is where most of the Samba festival takes place. Starting at Salzmarkt (in the middle of the photo) turning clockwise you will see the Neoclassical Coburg State Theatre and Palais Edinburgh, arcades leading up to a park, a riding hall and stables (a very big, stately building, by the way), and the residence palace, of course.
It is called Ehrenburg (castle of honour) because it was supposedly build without forced labour—in the 1540s this must have been an exceptional fact. Ehrenburg is used as library and museum today. You can take a guided tour through the rest of the palace almost every day—even in English, if you notify them in advance. If you're lucky enough to visit Coburg in early September, you might get the chance to see the building during the "Nacht der Kontraste" (nights of contrasts), a cultural event with illuminations, installations, exhibitions and music program throughout the town.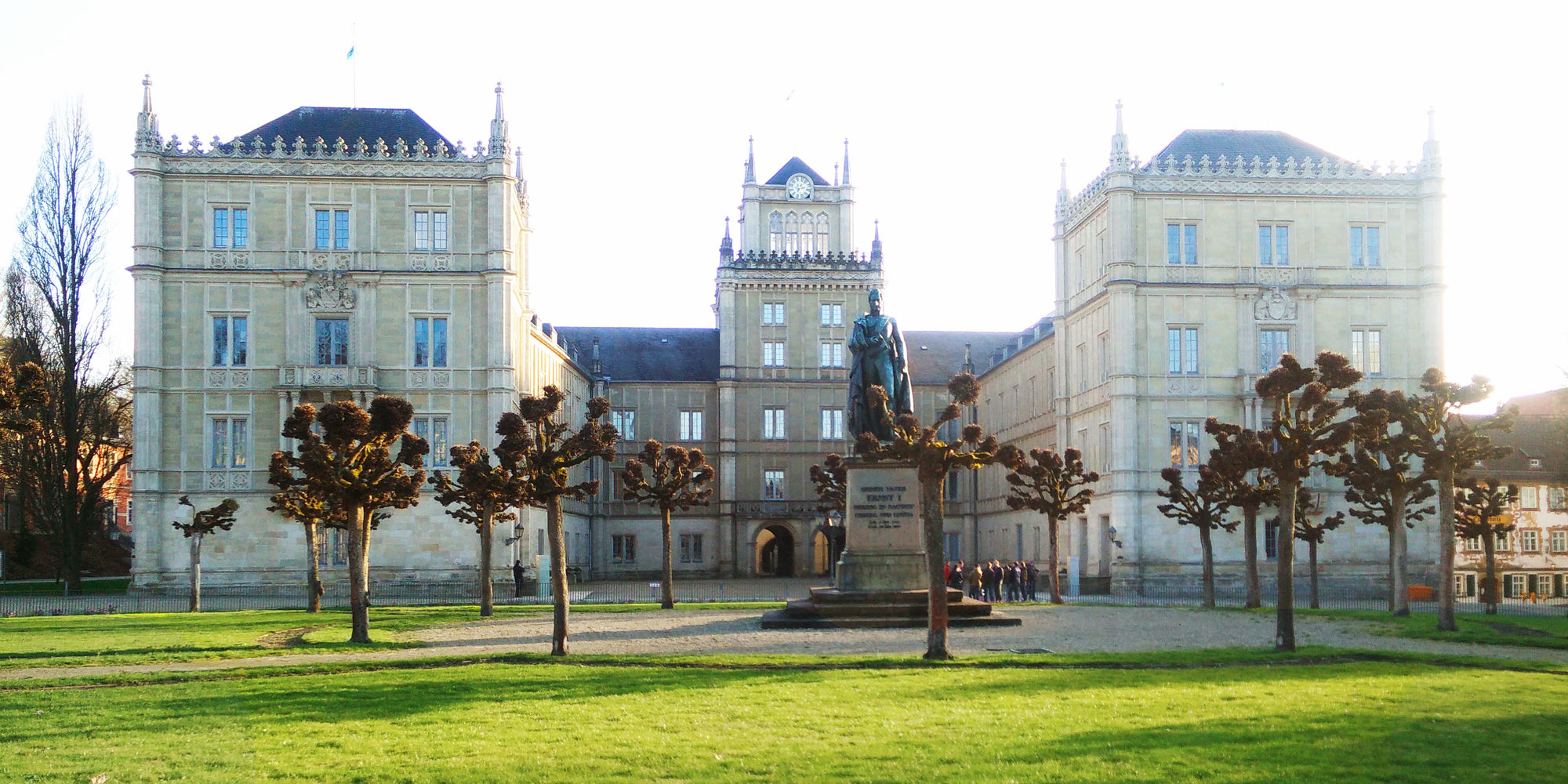 COURT GARDEN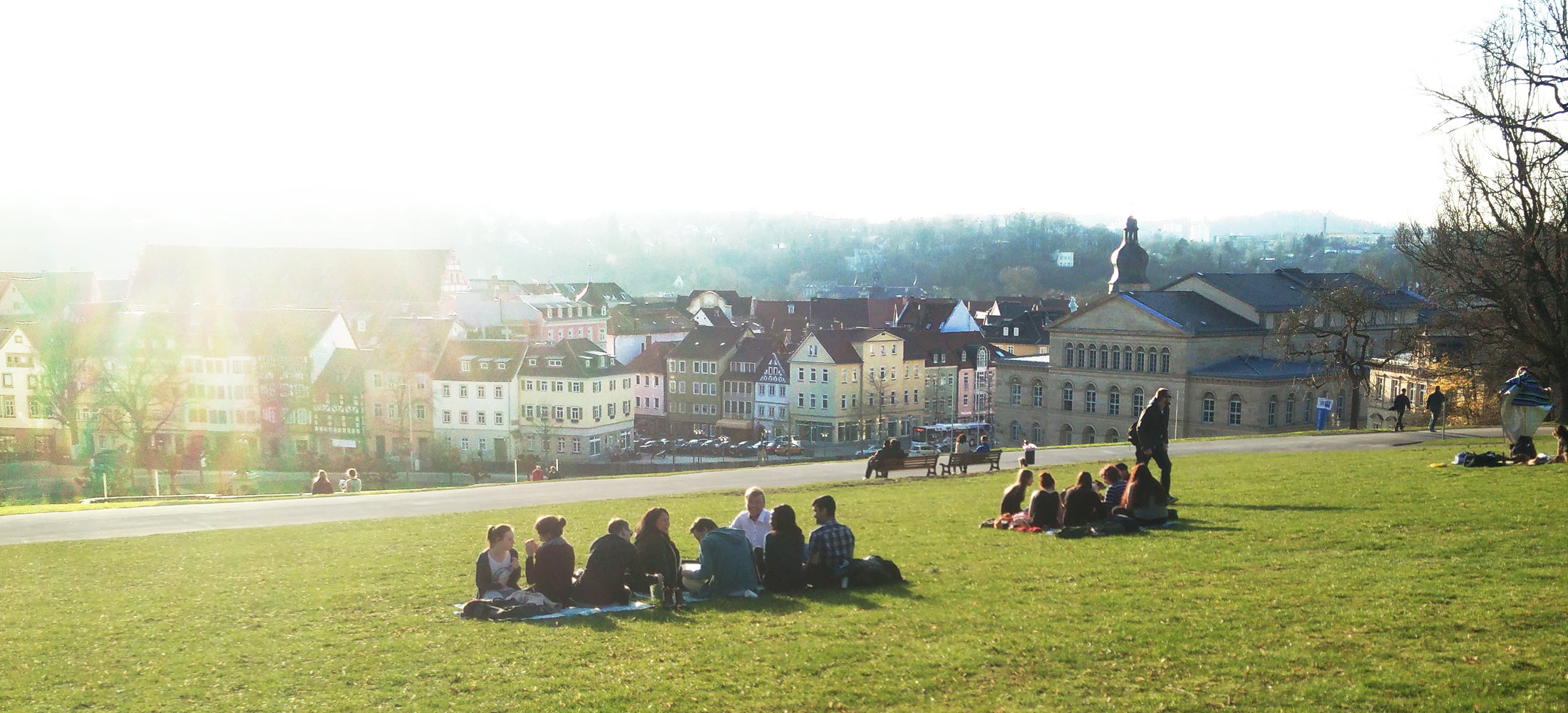 Hofgarten (court garden) is a park stretching east and atop the palace square. Up the hill you will pass by a equestrian memorial for Duke Ernst II. This is where a lot of people will sit all day long, taking a break, having a picnic on a sunny day, playing frisbee or sunbathing. Younger folks also like to go there for evening drink—though supposedly alcohol is forbidden at Hofgarten. But once you see the town panorama from up there, you will know why this is such a favourite spot for locals and tourists alike.
Walking further up the hill you will cross Veilchental (violet valley) and eventually reach the medieval Veste Coburg (Coburg Fortress), one of Germany's largest castles. It sits on top of the mountain, 167 metres above the city. So there is hardly any chance you haven't already notice the impressive structure crowing the mountain. It's hard to miss from afar. Martin Luther stayed there at the fortress in 1530, seeking protection there during his imperial ban and continuing his German translation of the bible.
Visiting the fortress should not only be mandatory for Protestant visitors, but for any tourist. Some of the rooms are extraordinary, especially the Jagdzimmer (hunting room) with ornate wooden marquetry. But the three museums inside the fortress have formidable exhibitions, too: art, the largest collection of medieval armour and weaponry in Germany as well as engravings, coins, documents and glassware. Make sure you have enough time for scouting every corner.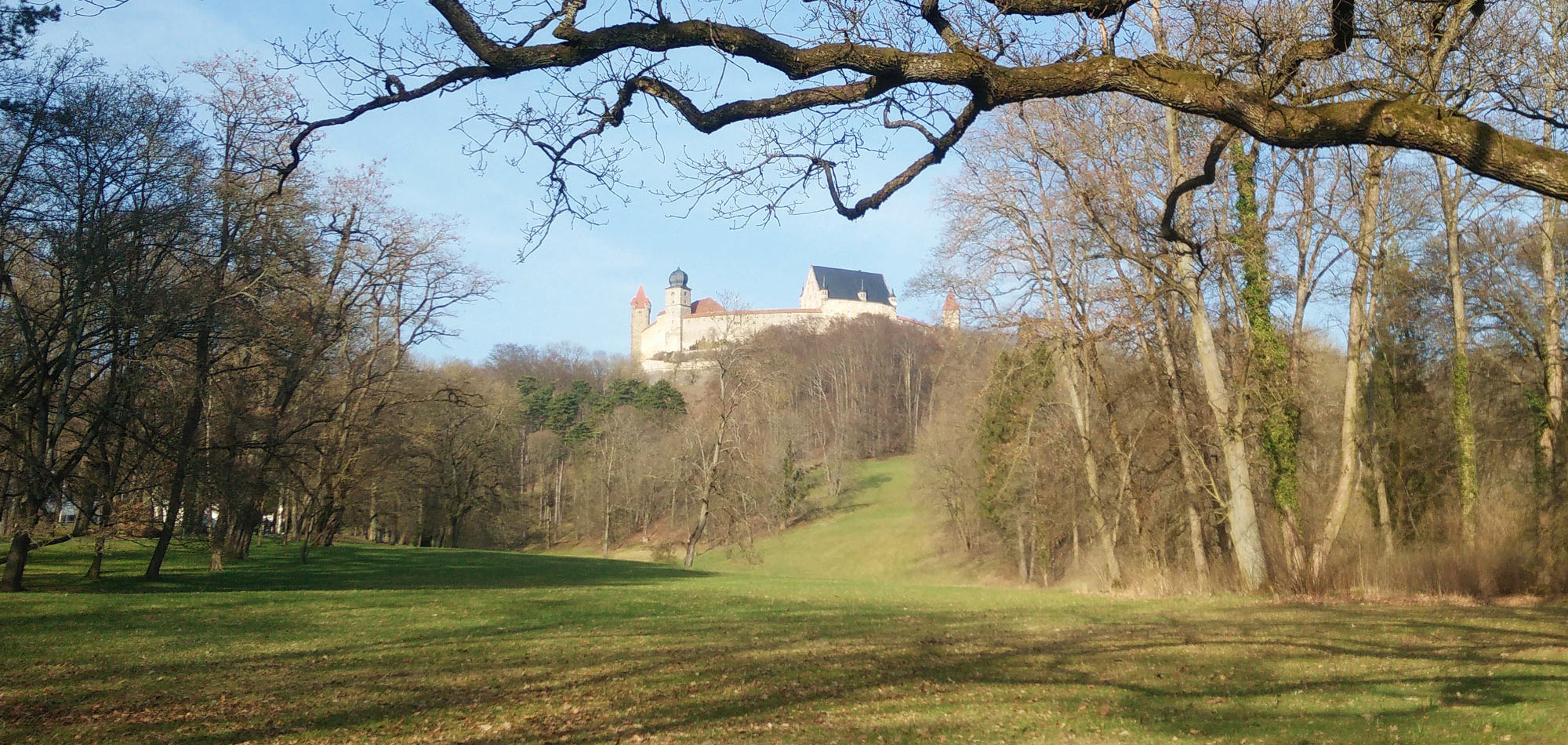 SAINT MAURICE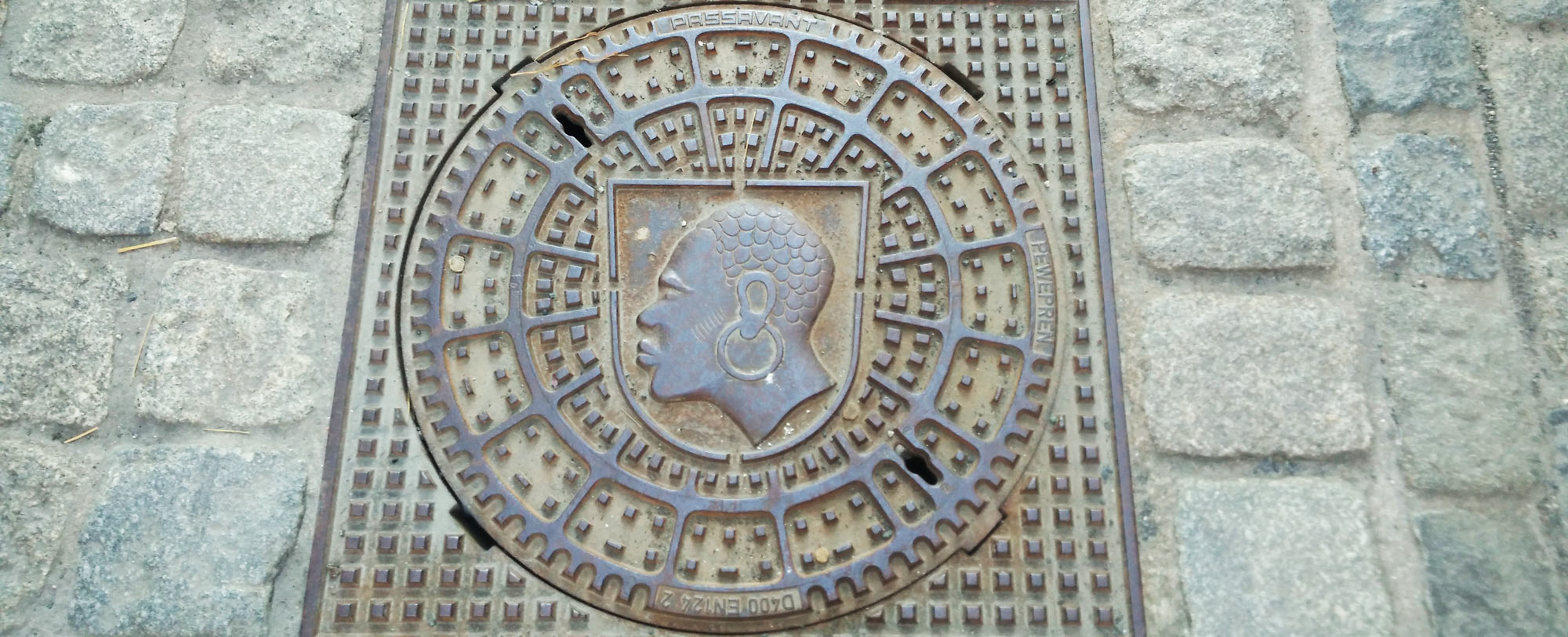 Throughout the town you will see images of an indigenous African, sometimes in full armour, sometimes as a stylized profile. You'll see the image in the town's coat of arms, which is also on gully covers all over town. Supposedly since 1493, the coat of arms almost exclusive consists of the image of Coburg's patron Mauritius or Moritz (Saint Maurice), who had been portrayed as African ever since the 12th century. In this peculiar historical context, Saint Maurice is also called the "Coburger Mohr" (blackamoor of Coburg) without it being considered offensive.
MY SCOUTING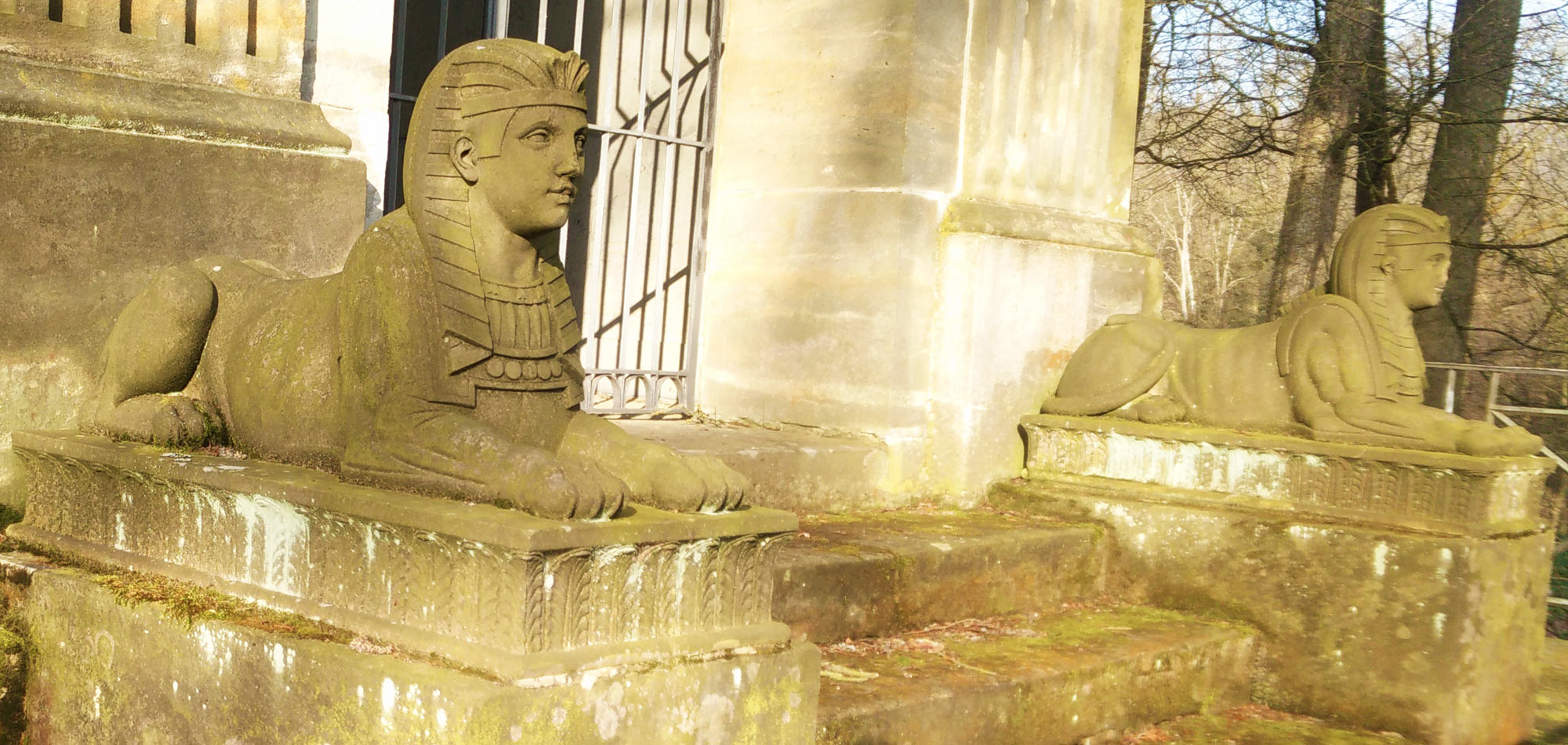 Sightseeing many important spots in Coburg is easy, because the town is quite small. Now, I'm sure that Coburg has many more corners to discover, for example more architecture ranging from several medieval castles to Art Nouveau and post-modern buildings.
It seems like living in Coburg is rather unstressed and moderate. Inhabitants might not appreciate the wealth of history in their everyday life as much as tourists will. Nightlife might not be a strong side of Coburg, but there are bars and a few rather tiny clubs. This isn't Berlin. To go to a bigger concert or experience wilder nightlife, you will have to drive at least half an hour to get to the bigger town Bamberg, or an hour to Nuremberg, Bavarias second-largest city after Munich. But Coburg can compensate for that with a quite high quality of life, parks and nature, a cinema, nice museums and solid cultural events, and almost everything else you might need in everyday life. Adding to the wealth is a large insurance company, which is based in Coburg since 1950 and employs more than 12% of Coburgs inhabitants (and surroundings).
RECOMMENDATION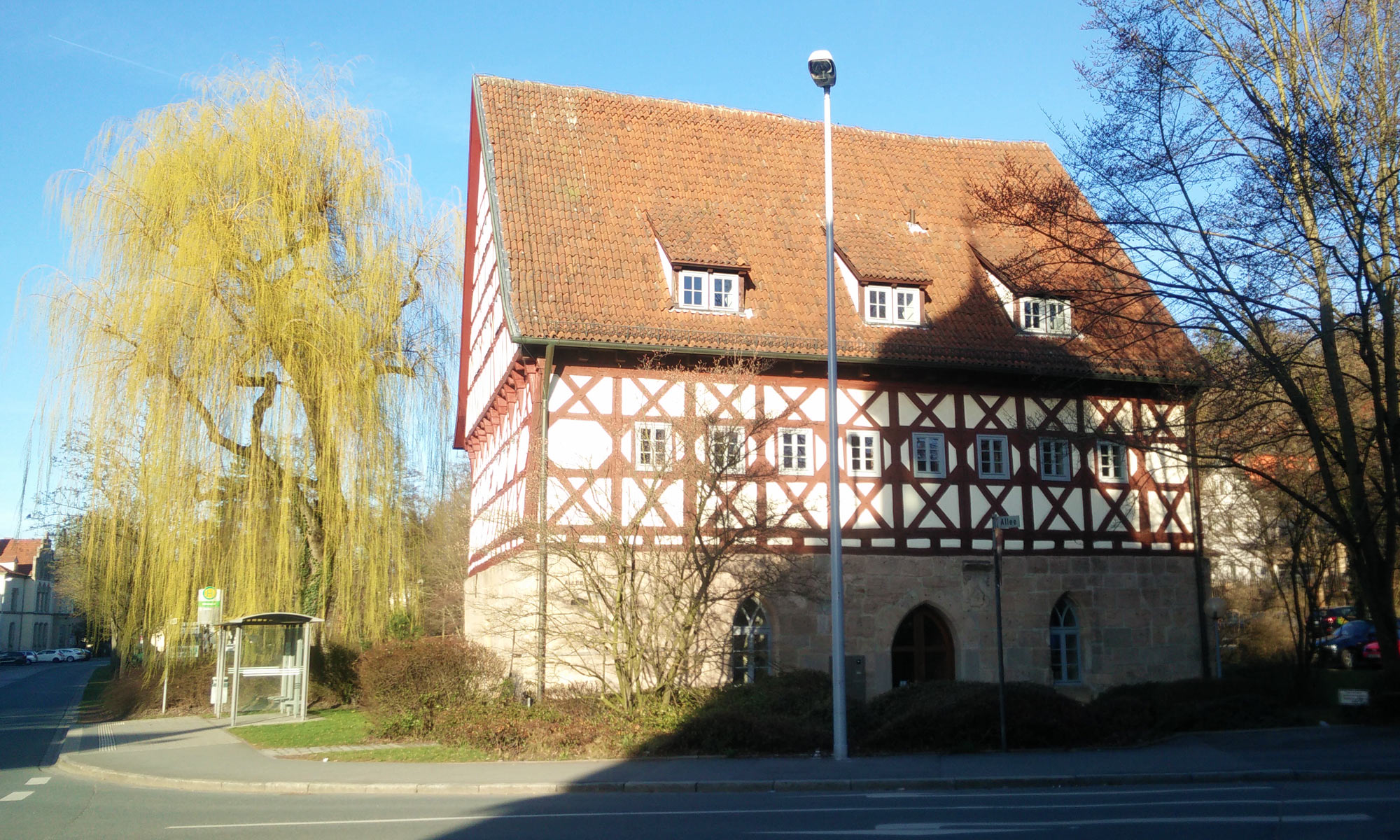 Coburg could be worth a trip, if you are interest in medieval fortresses, historic architecture and/or samba. It could also be your spot, if you are looking for a peaceful, if not placid residency.
MAP
MORE PICTURES