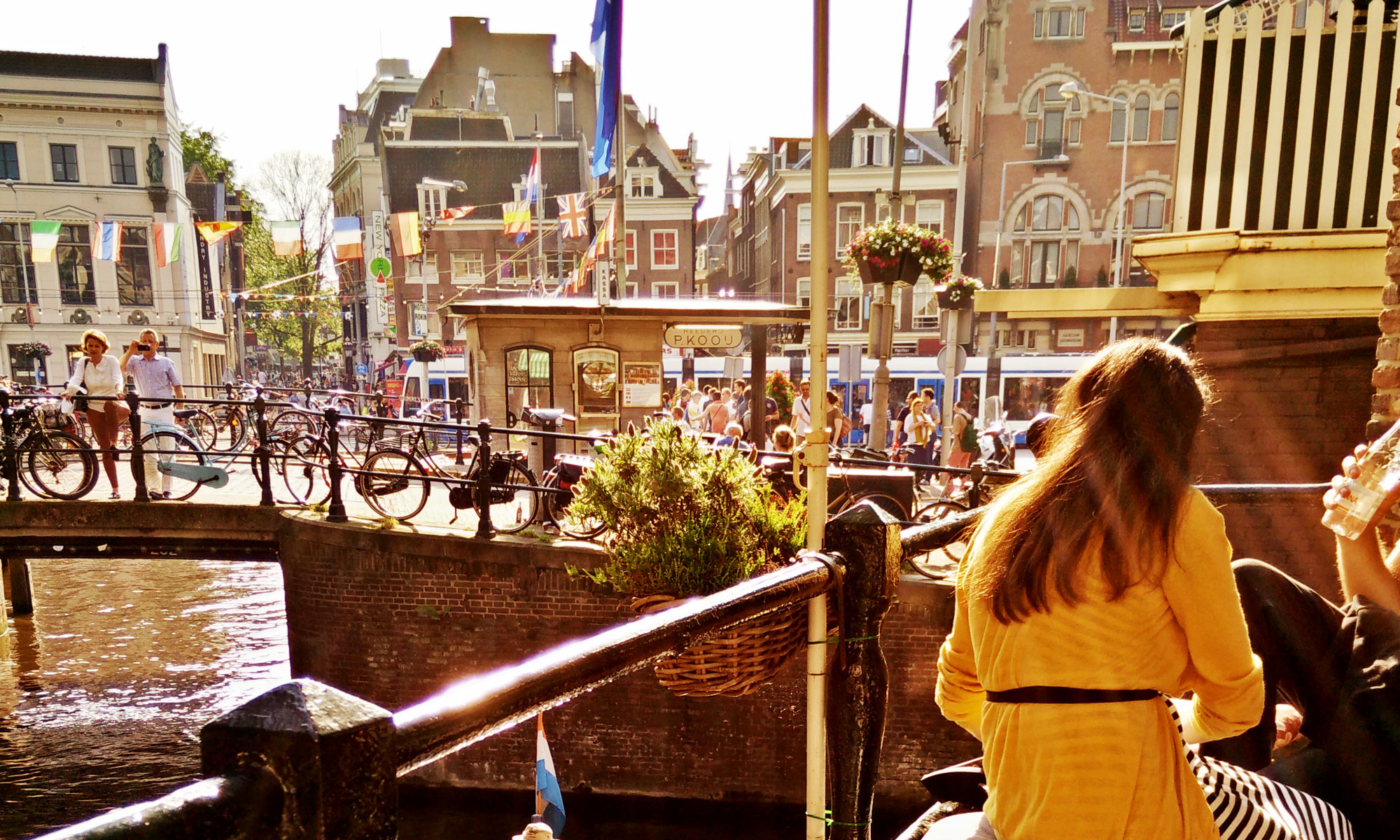 AMSTERDAM (Noord-Holland, Netherlands)
THE GIST
Amsterdam is one of my most favourite cities, full stop. It is gorgeous with the old buildings, the cannels and the many cafés, and the people seem very friendly and relaxed. I don't know which influence which: the general Dutch tolerance their liberality with drugs or vice versa. But if there was one city I'd move to without thinking twice, it's this cozy and romantic metropolis. Everyone talks about how romantic it is to stroll down the streets of Paris. But I think those people have never really been to Amsterdam. Paris is monumental, great and all that, but the amount of stone feels like a bastion to me. Amsterdam on the other hand is narrow, charming and enchanting. It's the Neuschwanstein of cities and remained rather untouched by World War II, fortunately.
Amsterdam was always the biggest city in the Netherlands and became the Dutch capital in 1983. With 838.338 inhabitants it's only the 41st biggest city in Europe, smaller even than Naples, Marseille, Stockholm, Birmingham, Cologne, Prague or Brussels. Yet, as any capital, it is the cultural centre of the Netherlands, while Rotterdam has become more important in commerce thanks to Europe's biggest port. But it's still Amsterdam where you can expect the biggest stars in concert, popular musicals and extravagant museums. Marihuana, Sex or Torture Museum anyone?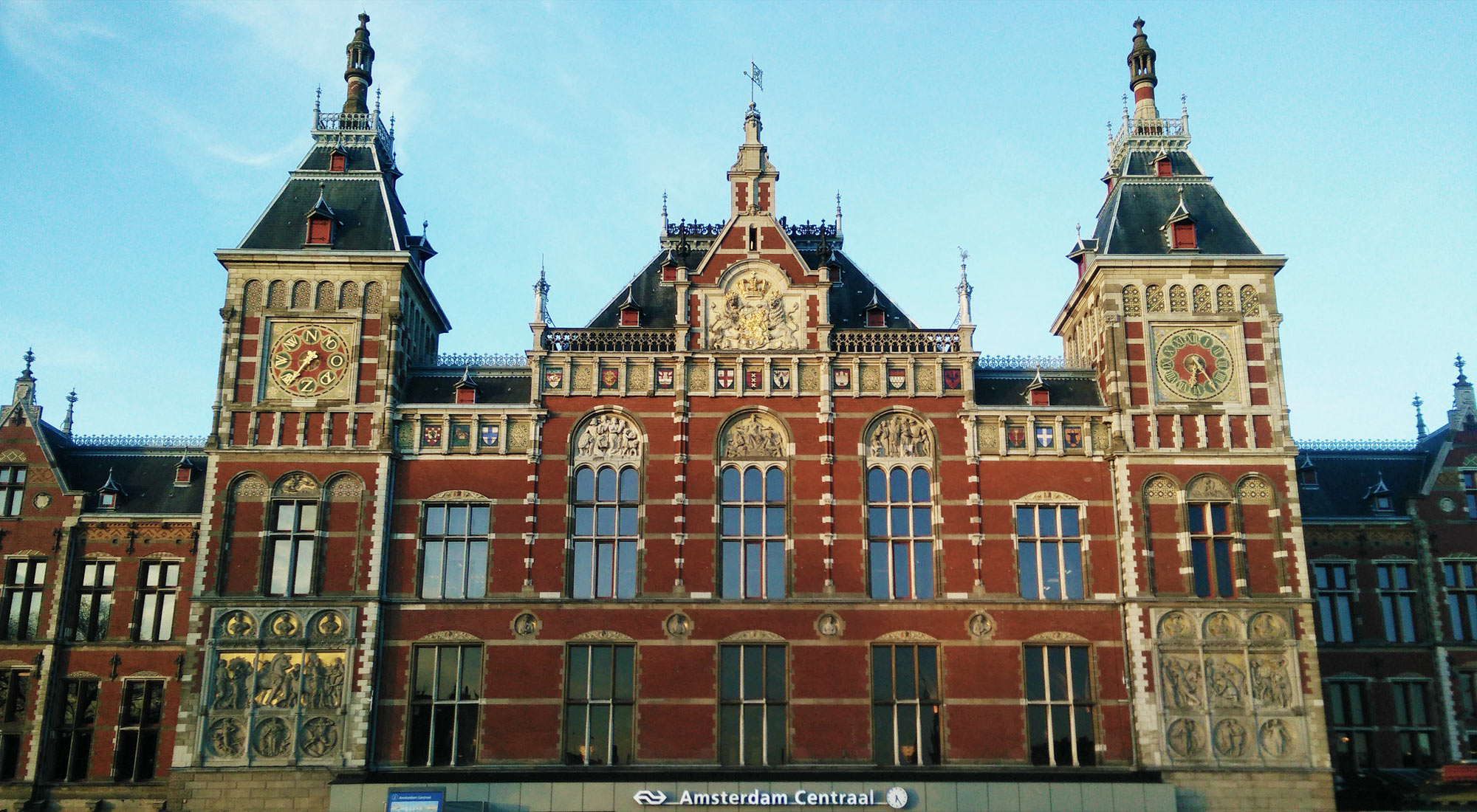 ARRIVING IN AMSTERDAM
Amsterdam Centraal is big and old. It was opened in 1889, though the inside doesn't quite look like it. The passenger tunnels are not too inviting and usually so busy that you'll gladly escape the building. Once outside you can see the great Gothic/Renaissance Revival facade made of brick. You should have a look at a picture from 1890 on
Wikipedia
.
Amsterdam central station is situated on the northern end of the city centre. First you have to cross the rather ugly Stationsplein ["plein" means square]. Luckily you'll have made it in 30 seconds. Once you've passed by bus and tram stops, you'll reach a big crossing. And that's where you Amsterdam bliss will finally start—and hopefully continue during your stay there. But there is a choice you have to make: Do you want to walk south (straight ahead) through the proper shopping streets, or do you want to the not so commercial streets to the east (left)?
Of course, technically you can also turn west, but it's not that interesting there, except for a walk along the canals (which are all around the city centre). Or you take one of the free ferries to the northern suburbs, which in turn is more interesting.
In case you prefer to go to Amsterdam by car, it's recommendable to use park and ride (P+R) services. Driving in the narrow streets of Amsterdam is unnerving, maybe even dangerous with all the bicycles. Plus parking in the centre costs a fortune. You will walk through the pedestrian city centre, anyway—unless you rent a bike. I hardly ever took a tram or a bus in Amsterdam.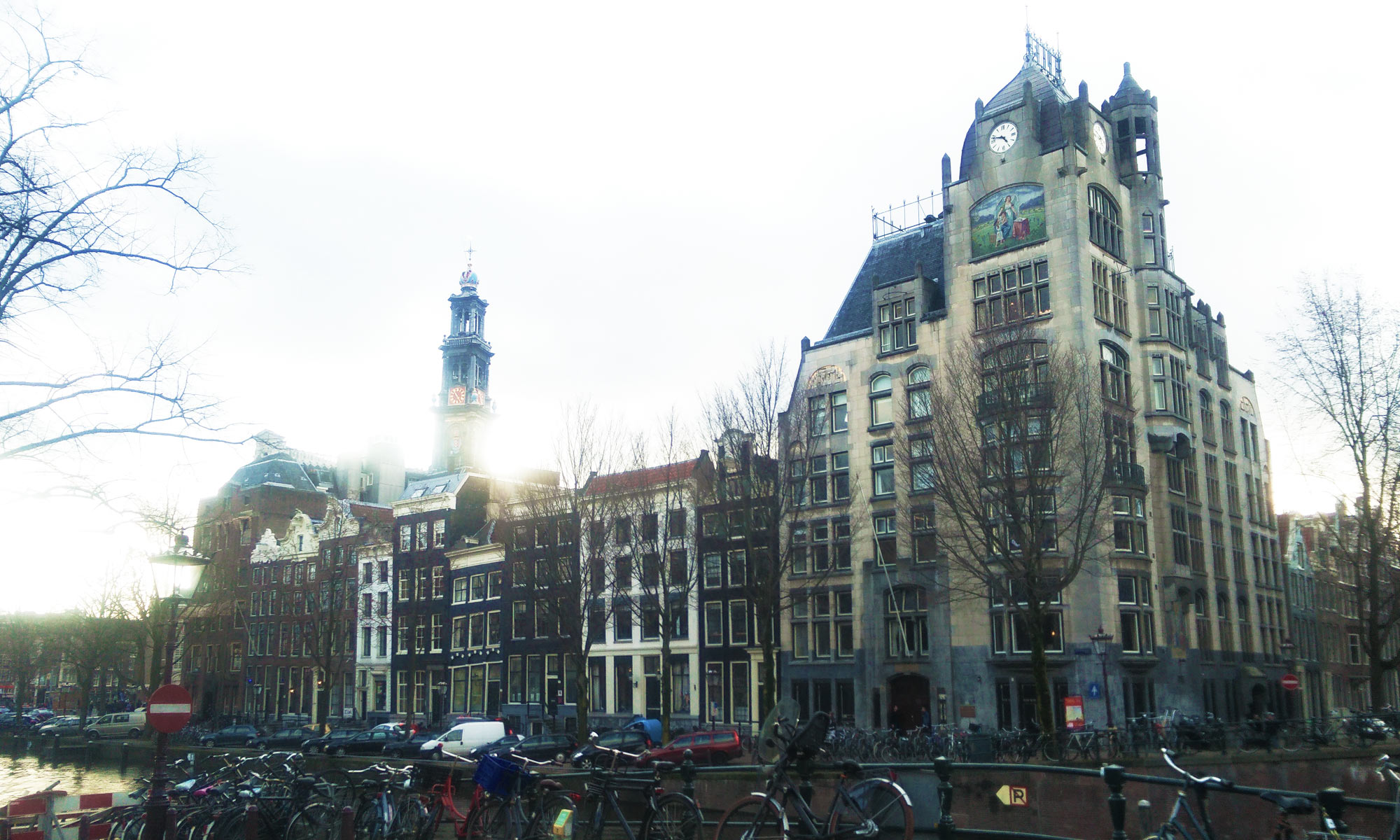 THE SHOPPING HEART
The easiest choice is to walk straight ahead into the centre through the broader shopping avenue Damrak. But I don't like this one as much as the smaller pedestrian area west. The shopping street Nieuwendijk [new embankment] runs parallel to Damrak's west, or your right coming from central station. First you will pass by snack shops, but also many touristy headshops (smoking paraphernalia), coffee shops (selling Marihuana) and smartshops (selling any kind of legal substances, even magic mushrooms). Unless you aren't in a rush to buy something right away, I'd suggest you wait. Prices will be lower in almost any other part of the city.
Soon Nieuwendijk will turn into a regular shopping street with many clothing stores, retail chains and some cheese shops—you know, Gouda, Edam, Maasdam, Leerdamer. What bread is to Germans, and BBQ to Americans, cheese is to the Dutch.
Both Damrak and Nieuwendijk lead up to Amsterdam's central square: Dam [dyke or embankment]. That's where some very huge and important buildings are: the Royal Palace, the Nieuwe Kerk (new church), the exquisite former post office Magna Plaza behind the Palace, and the National Monument. But also Madame Tussauds, in case you're more interested in that then me.
To get to the Anne Frank House, it's also at Dam where you have to turn west. After three canals there is Westerkerk [west church], and right behind it (north) you'll find the Anne Frank museum.
For more regular shopping you simply continue your way south crossing Dam. It's roughly the same distance from central station to Dam as it is from Dam the end of the shopping street—more or less. At Muntplein [coin square], which is the south-eastern tip of the shopping streets meets the first canal, that's where the famous swimming flower market is.
I suggest you stray a little from the shopping street 200 metres south of Dam and explore the next couple of streets to the west a little. Begijnhof is interesting to see, and at the square Spui you will find many nice cafés and pubs to have a snack. I'd suggest a place called De Brabantse Aap—not for their drinks and food are quite nice, but because of the location. If the weather is fine and you get a table outside, you'll have a look at the Oude Lutherse Kerk [old Lutheran church], the canal Singel, which was the city moat until 1585, and then also at the Neo-Gothic church De Krijtberg on the other side of the canal. Unfortunately a tram line runs right in front of the café.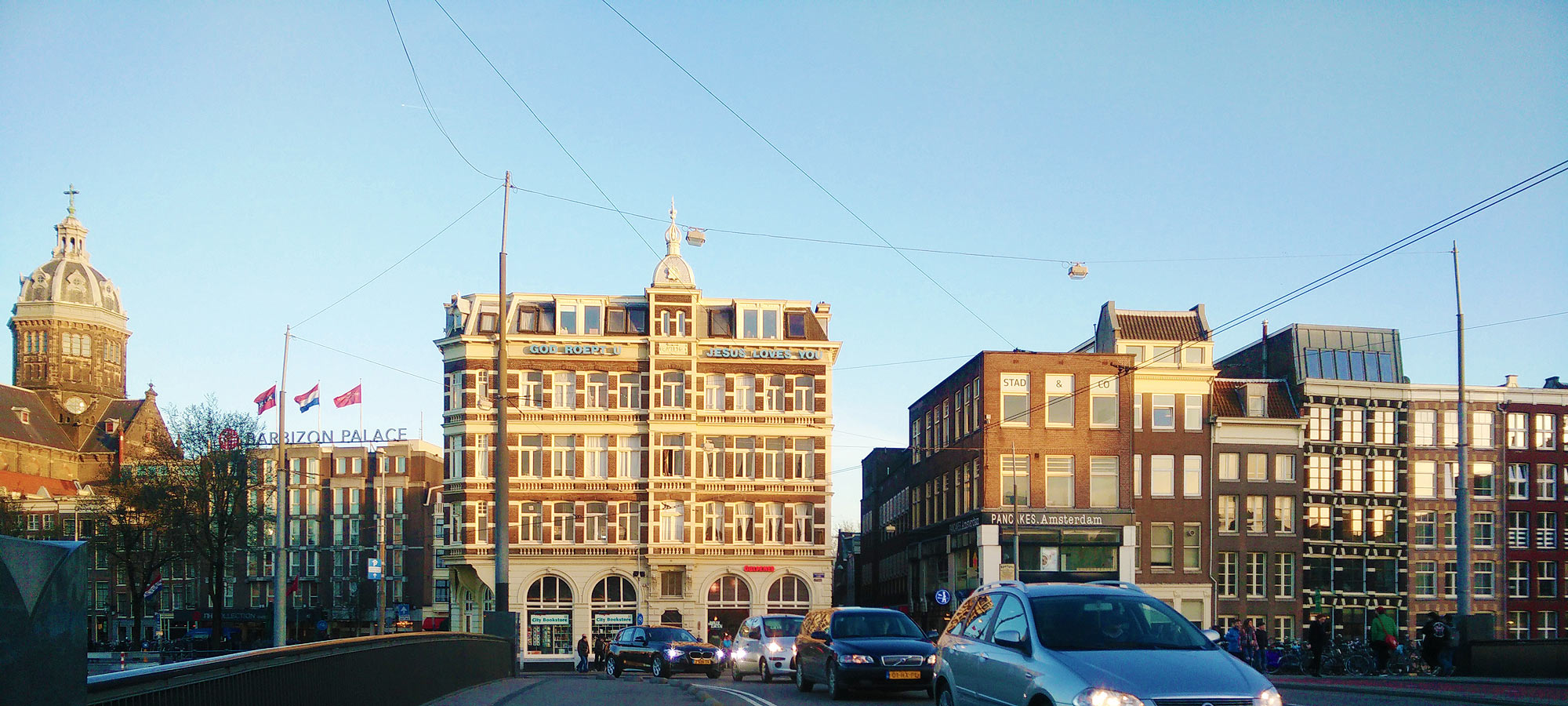 THE EASTERN PART OF THE CENTRE
If you're not so much interested in shopping—and who can blame you for that?—then I'd recommend you turn east (left) at the central station, cross the bridge and walk into the alley Nieuwebrugsteeg [new bridge alley] (that's the small alley in the middle of above photo). Once there you can choose which of the streets heading south (right) you turn into. The first one, Warmoesstraat [chard street], is one of the oldest in Amsterdam and has a lot of pubs, a few gay leather bars and a few boutique shops. The second one, Oudezijds Voorburgwal [old side front bastion wall] along a canal, has more pubs, restaurants, coffee shops, the Oude Kerk [old church] and quite many sex shops. The (in)famous red-light district of Amsterdam starts here, but is most prominent along the next canal east of it, the Oudezijds Achterburgwal [behind bastion]. If you care to see (or meet) half-naked women in windows, that's where you should be heading.
My suggestion, though, is to take neither ways, but to walk down Zeedijk [sea dyke] north and then east of Nieuwebrugsteeg (you have to pass left of the red-and-white house in the middle of above picture). There you pass by many nice pubs, restaurants and the golden Buddhist He Hua Temple, which makes for an unexpected stop. At the end of Zeedijk is Nieuwmarkt [new market], a big square with many pubs and restaurants, and with the Weigh House, which looks like a tiny fortress. If you're lucky there will be a food or flea market on Nieuwmarkt as well.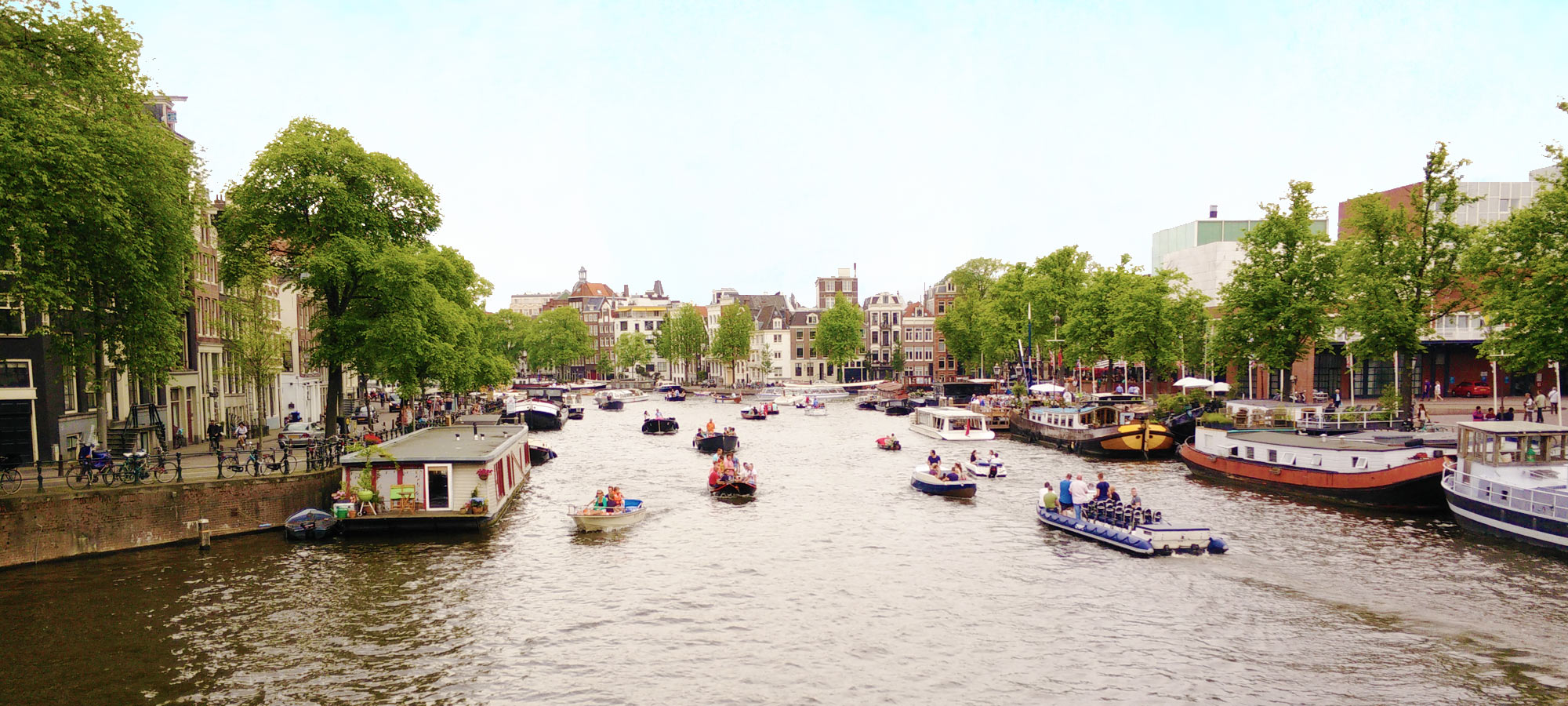 WATERLOOPLEIN
Walking through Sint Antoniesbreestraat at the southern side of Nieuwmarkt, you will get to the Rembrandthuis, where the famous Dutch painter lived and worked for decades. It's a museum now—guess about who.
Right behind Rembrandt's house is the Waterlooplein [remember what plein means?] with the most famous flea market. It's kind of touristy as well, but so much fun to browse through. Everyone should find something they cannot leave without. I once bought a very cute and colourful t-shirt there with a fox sewn on, complete with a button nose. Now I wish I hadn't been thrifty and bought some other animal t-shirts as well.
The outdoor bazaar consists of around 300 stands of second-hand and new clothes, some antiques, but also a lot of junk and oddities. The flea market takes place almost every working day, except on Sundays—though many shops in the Netherlands are open on Sundays, too. If unfortunately you pass by on a Sunday, don't despair! Just pop into the second-hand store Episode at the western end of Waterlooplain.
SITTING DOWN GIVES YOU A NEW PERSPECTIVE
Like I said about Spui, it's nice to sit down in a café with a view. The one's along Singel might be among the nices—especially in the northern part, e.g. at one of the widest pedestrian bridges, Torensluis [tower lock]. Remember, almost everything is within walking distance. But then there are nice café almost everywhere. Just have a look around.
If you are still at the flower market, simply head to the next street in the south, Reguliersdwarsstraat. It's full of nice café and bars, many of them gay, but straight-friendly. 😉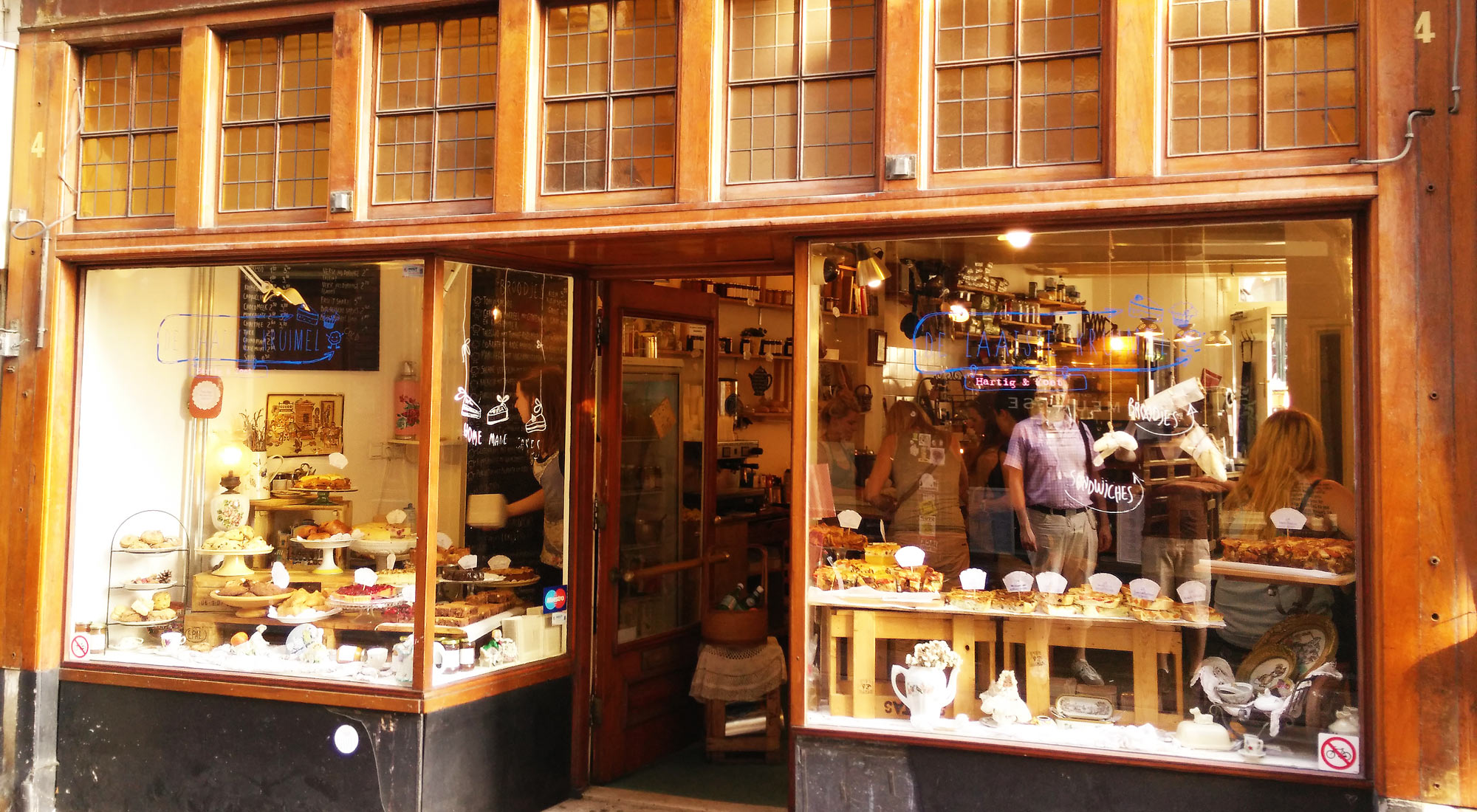 My most favourite bakery and café is the tiny De Laatste Kruimel [the last crumbs] just a few steps east of Spui. It's a little hidden at Langebrugsteeg 4. But once you see the pies and cakes and quiches in the windows, you will feel in pastry heaven. Think of a pastry version of the chocolaterie in the movie "Chocolat". You'll have the urge to go in and then feel spoilt for choice. As I said, it's tiny, but very charming despite—or because of—it's make-shift furniture of euro-pallets and boxes with cushions. It will probably be busy, but trust me, waiting for a free seat shouldn't take too long. And if you're really really lucky, you will get a seat on the tiniest of balconies over the tiny canal Grimburgwal. About 5 or 6 people can sit on this triangular space outside.

You will now have to stand the full photo of De Laatste Kruimel's balcony and its view.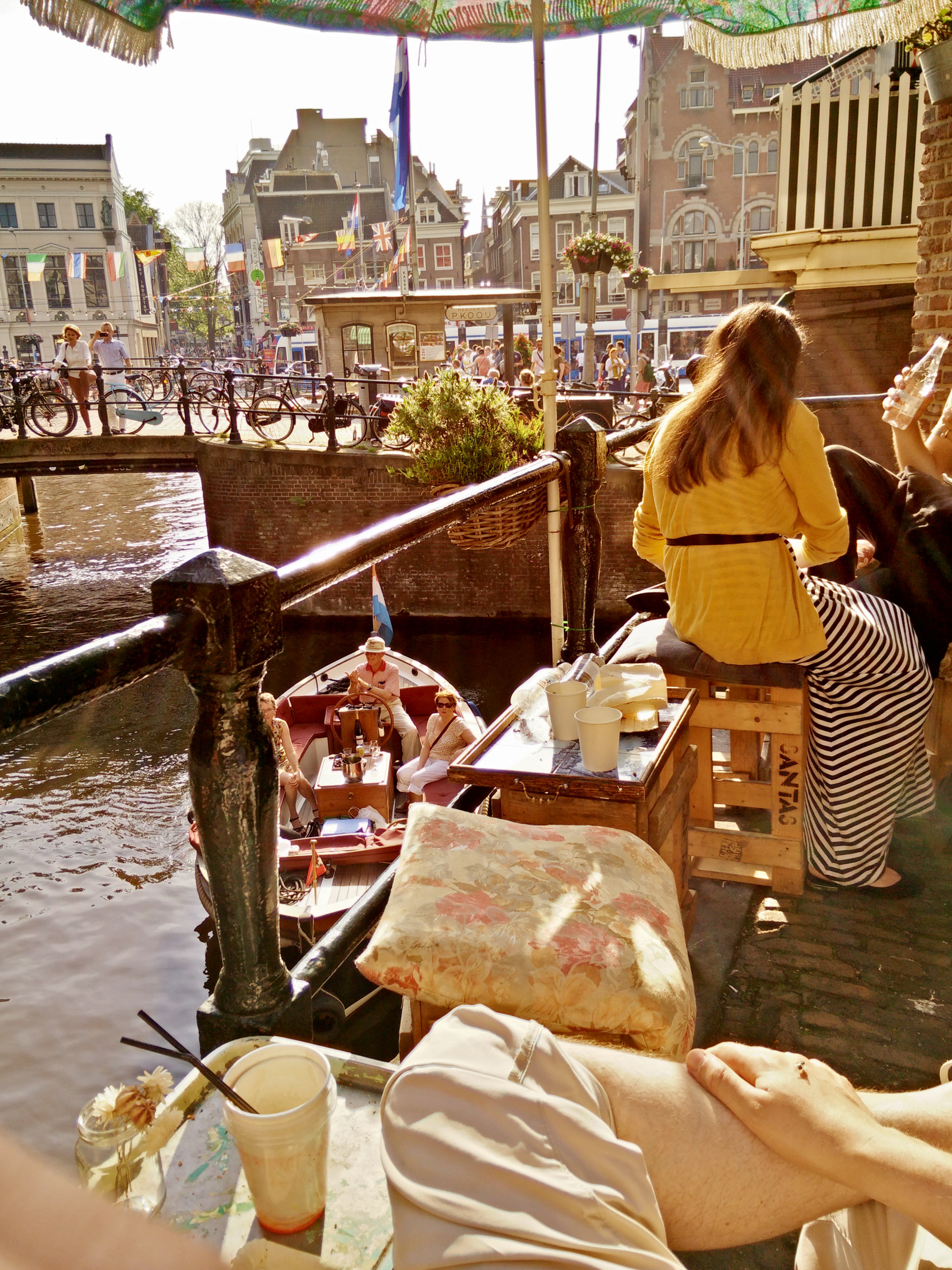 WHAT ELSE IS THERE TO DO?
A lot! If you're interested in art, there are many studios and some important museums. The historical Amsterdam Museum is right in the city centre just north of Spui and Begijnhof. In the south of the city centre is the Museumplein with the Rijksmuseum [national museum] and the Van Gogh Museum for the more classical masters and the Stedelijk Museum for modern art. In the east is the NEMO Science Museum. Not to mention again the Marihuana, Sex or Torture museums.
On a fine day you'd probably spend more time outside, so head to the southeast for the royal zoo ARTIS and the Hortus Botanicus, a botanical garden. By the way, one tip in the north-west is Westergasfabriek, a former gasworks factory, where there are bars and a cinema nowadays, and a bigger park next to it.
And when the night comes, you probably want to spend the night at one of the many bars, at a theatre, show or at a concert in the beautiful venue Paradiso, which used to be a church and was squatted in 1967 by hippies. If you feel like going to see a movie, they are usually in the original language (with Dutch subtitles). So chances are high you'll find a movie you'll understand. And the cinema to go to is Tuschinski 50 metres away from Muntplein and the flower market. For me, Tuschinsky (photo further below) is one of the most impressive buildings in Amsterdam, because of its rare, but beautiful mix of Amsterdam School, Art Nouveau and Art Deco on the outside as well as the inside. I'm in awe everytime I stand in front of it or go into the lobby.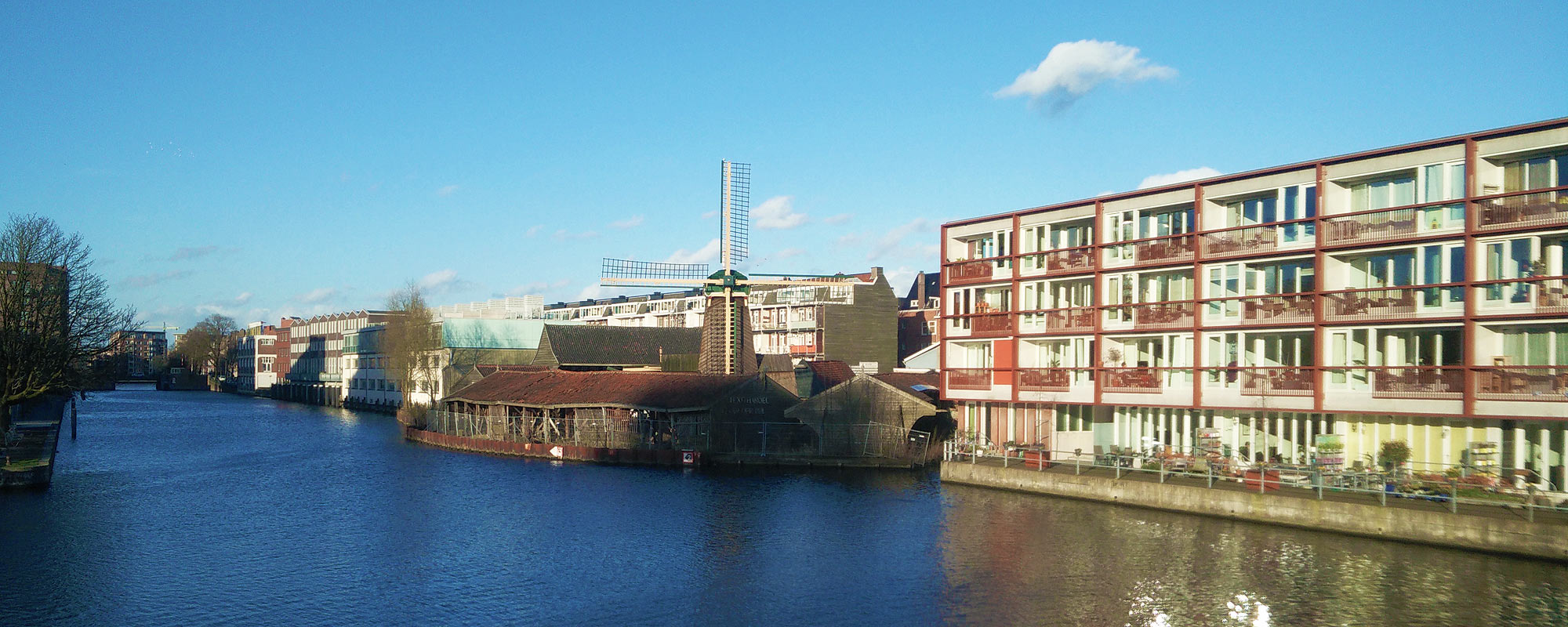 RECOMMENDATION
There is incredibly much to scout in Amsterdam, and almost every corner in the centre is old and beautiful. My recommendation is to bike through the canals and alleys at night. Usually streets are rather quite at that time, but very very romantic.
If you want to move here, make sure that you find a job that pays enough, because rents are rather high in Amsterdam. But who can blame them when you can live in such a lovely city in beautiful old buildings?
MAP
MORE PICTURES